Problem House in District 5: 10291 Kenilworth Way
[facebooksimplelike] Click this Like button if you like our efforts to promote public safety.
Problem House in District 5: 10291 Kenilworth Way, San Jose, CA 95127
Please submit an Online Petition below to help the Responsible Landlord Engagement Initiative (RLEI) address this problem house. The problem house has become a magnet for criminal activity that can be verified by the San Jose Police Department. The Online Petition is below, followed by details regarding this problem house. To look into the matter the Responsible Landlord Engagement Initiative requires gathering of online petitions using the form below and/or signatures on a paper petition being circulated in Lyndale neighborhood.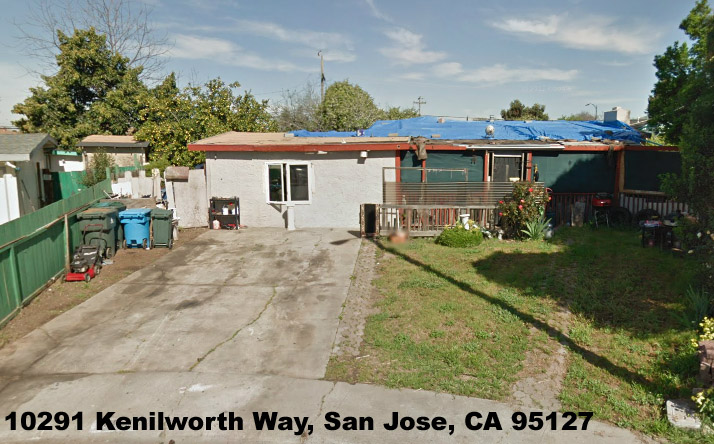 Please submit the online petition to help restore this area to a safe place to live and raise our families or to just live with some peace. Any and all information will be kept confidential.
——————————
DETAILS THAT WILL BE INCLUDED IN YOUR EMAIL TO RLEI:
Per Lyndale neighborhood residents in San Jose Council District 5: Over the last 12 years there has been a constant attempt by several city and county agencies to get the residents and owners of the property located at 10291 Kenilworth Way, San Jose, California 95127 to: clean and remove from street view, piled debris, scrap lumber, plastic covering the roof, car parts and broken down junked vehicles, travel trailers and motor homes parked on the front lawn while occupied by tenants. Constant vehicle repair activity on assorted visiting vehicles takes place on the homes driveway or on the street in front of the home. It is not uncommon for vehicle repairs to go on from 9:00 pm to the 2:00 am. Over the years there have been several police and SWAT raids on the home. Over the last two years, the San Jose Police Department (SJPD) has made a number of arrests of people living at or while visiting the property. Several stolen vehicles have been recovered within 100 yards of the residence over the last 18 months, others have never been recovered.  Several neighbors of the problem property have had their vehicle stolen, while others have had their vehicles damaged by hit and run drivers or parts stolen off the vehicles. The problem house has become a magnet for criminal activity that can be verified by SJPD.
A migration of heavy foot and vehicle traffic takes place throughout the evening and into the early hours of the morning. We now find our street and the surrounding areas where this house is located to be unsafe to walk on after dark and at times during the day. From drug use to stolen items, to an inability for children to ride their bikes out front or for disabled people to walk the neighborhood, we are as residents being held hostage in our own homes.  Homeless people are sleeping in the back yard and are squatting in other neighborhood vacated houses, while spending their days at this house. This is no longer a simple street problem but a neighborhood problem that impacts us all.
The City of San Jose, San Jose Code Enforcement and the San Jose Police have all been involved in addressing the issues created by these residents all to no avail; the owners of the house simply ignore these agencies and go back to business as usual.

——————————