Meetings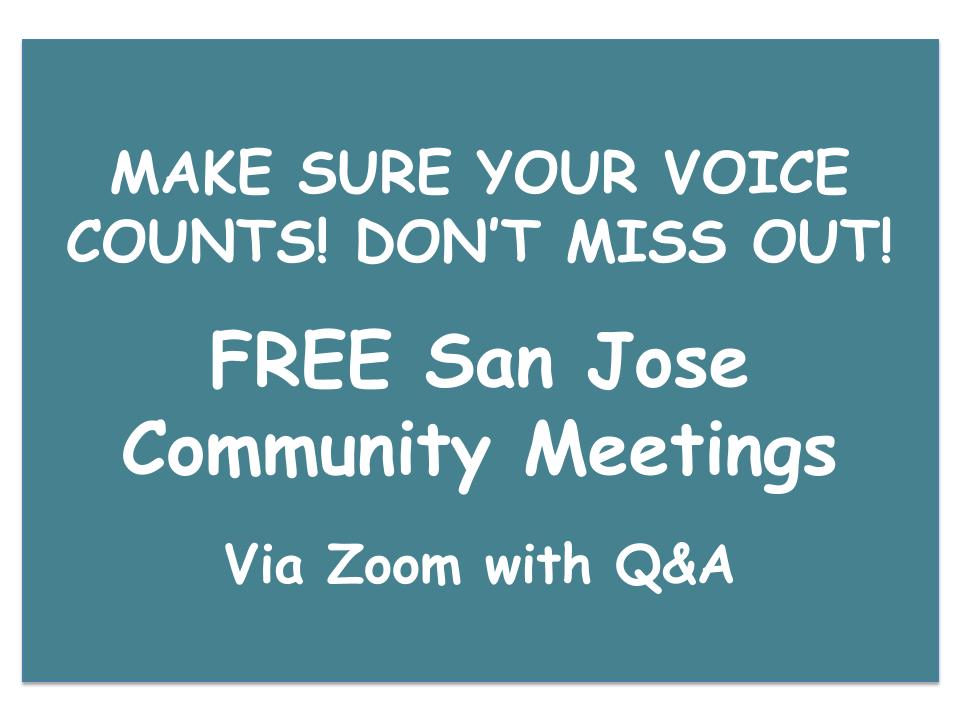 FREE COMMUNITY MEETINGS VIA ZOOM!
Meetings are open to the public.
Meeting on Thursday, 10/21/21 at 6pm
Did you know new San Jose Council District boundaries are being drawn? Your Council District and Councilmember may change. Join this meeting to learn about the process, how you can chime in, and how to submit your own proposed boundaries!
Presentation and Q&A by Toni Taber, San Jose City Clerk. Redistricting is the once-a-decade process of redrawing the political boundaries for elective offices after the U.S. Census. You have the opportunity to submit your own draft Council District maps, and also to provide feedback on the maps drafted by the City's Redistricting Commission.
Register now: https://us02web.zoom.us/webinar/register/WN_aW8uqhFjQcu0MNyfUC5k4A
Meeting on Wednesday, 10/27/21 at 630pm
Reid-Hillview Airport: Brief recap of Board of Supervisor 8/17/21 vote, steps taken since 8/17/31, plus planned or potential next steps.
FREE Zoom community meeting
Register now: https://us02web.zoom.us/webinar/register/WN_cIou3EvPQPeuLuFOpJooiw
Reid-Hillview Airport update, next steps, and Q&A
By Santa Clara County (SCC) Roads and Airports Director Harry Freitas and SCC Supervisor Cindy Chavez
Community Advocates Leadership Academy by Green Foothills! Scholarships available!
This program is for Santa Clara, San Mateo and San Benito county residents. The Leadership Academy convenes, trains and invests in local community leaders while they complete an 8-month training program and beyond. The program meets one Saturday a month from January through August.
Alumni are supported in their advancement into leadership roles at nonprofits, public agencies, companies, and community-based groups where they advance initiatives for environmental conservation, justice, and inclusive public process.
Application and more information:
https://www.greenfoothills.org/leadership-academy
Application deadline: 10/30/2021.
Some sessions will be held online; others will take place in person in an outdoor setting. Locations to be announced. Dates and topics:
1. Saturday, January 8: Class Orientation
2. Saturday, February 5: Preparing for a Campaign
3. Saturday, March 5: Goal-Setting and Community Expertise
4. Saturday, April 2: Power Mapping and Coalition Building
5. Saturday, May 14: Grassroots and Grasstops Engagement
6. Saturday, June 4: Theory of Change and Messaging
7. Saturday, July 9: Finalizing the Campaign Plan and Looking Back on Our Journey
8. Saturday, August 6: Graduation and Looking Ahead