2013 Hero Story 6: Larry Tilbury
Click here to visit District 5 United on Facebook and LIKE us if you like that we strive to improve the quality of life in East San Jose and/or if you like this story.
2013 Hero Story 6 – Larry Tilbury:Â The following story was submitted by community member Bob Dolci.
Use the social media icons above to share this hero story or leave a comment at the bottom of this page. You may also share this story using Twitter hashtag: #district5united or short link https://bit.ly/12rRT3V.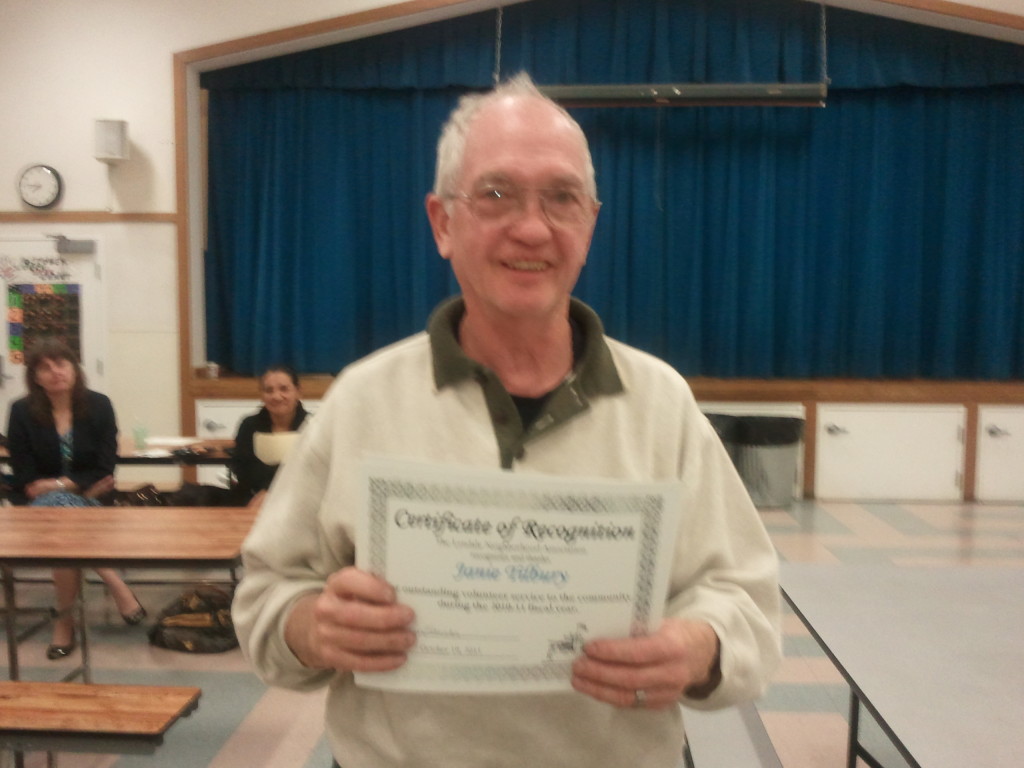 According to Bob: Larry Tilbury is most deserving of this honor because during the last 14 years or more he has been actively involved in the following projects/activities: (1) Graffiti Eradication Team; (2) Books 4 Kids Literacy Project; (3) School Safety Worker; and (4) Library Volunteer. 
As a member of the two-man Graffiti Eradication Team, Larry would walk our neighborhood daily to search for unwanted graffiti. After photographing all instances and reporting them to the City, he would diligently paint over the graffiti, thereby restoring the pride we have in owning our neighborhood and not letting taggers dominate the scene.
Larry teamed with a few others, including his wife Janie, to found and implement for 13 years, the Books 4 Kids Literacy Project. They would collect, purchase and organize hundreds of books and school supplies during the course of a year and every December host distribution events at 1-3 schools in our local community. Featuring Mr. & Mrs. Santa Claus, these events were the highlight of the holiday season for the children and teachers at Lyndale Elementary School, Horace Cureton Elementary School and Franklin McKinley Elementary School.
Every day during the school year, Larry can be found at the entrance to the school assisting the children during their arrival at Lyndale School. In this way, he helped to ensure their safe arrival and the orderly flow of traffic.
Finally, every week Larry volunteers a couple days a week at the Alum Rock Library and helps promote all book sales, the proceeds of which directly benefit the users of the facility.
Thanks, Larry, for all you have done and continue to do to help make our community a better place to live!
Click here to view all the nominated heroes and then join us on June 29th to celebrate "District 5 Heroes".
Click HERE to vote now to tell us who should receive Special Recognition on June 29, 2013!!