2013 Hero Story 7: Janie Tilbury
Click here to visit District 5 United on Facebook and LIKE us if you like that we strive to improve the quality of life in East San Jose and/or if you like this story.
2013 Hero Story 7 – Janie Tilbury:Â The following information was submitted by community member Bob Dolci and Larry Tilbury.
Use the social media icons above to share this hero story or leave a comment at the bottom of this page. You may also share this story using Twitter hashtag: #district5united or short link https://bit.ly/16IYbOa.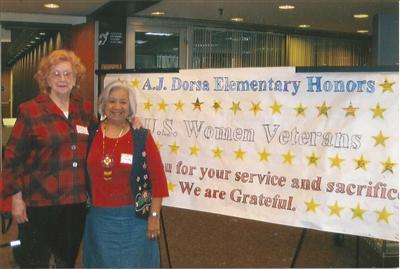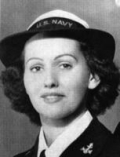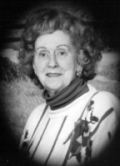 According to Larry:Â My hero has been my wife Janie. She was a World War II veteran and lived on the East Side the past sixty years giving to the East Side and other parts of the city in many ways. We will all miss her very much.
According to Bob:Â Janie Tilbury is most deserving of this honor because for many years she volunteered in the following projects/activities: (1) the Sheriff substation (5 years); (2) Books 4 Kids Literacy Project (13 years); (3) the Restorative Justice Program (4 years); (4) the VA pharmacy (5+ years); (5) visiting people in convalescent homes and the jails (10+ years); (6) historian for the Lyndale Neighborhood Association (13 years); and (7) Canine Companions (several years).
Janie was most proud of how she teamed with a few others, including her husband Larry, to found and implement for 13 years, the Books 4 Kids Literacy Project. They would collect, purchase and organize hundreds of books and school supplies during the course of a year and every December host distribution events at 1-3 schools in our local community. Featuring Mr. & Mrs. Santa Claus, these events were the highlight of the holiday season for the children and teachers at Lyndale Elementary School, Horace Cureton Elementary School and Franklin McKinley Elementary School.
The County of Santa Clara and the Office of Women's Policy presented the Second Annual "Salute to Women Veterans" on Thursday, March 25, 2010, at the County Government Center. The evening was dedicated to the fallen soldiers and to recognize the women veterans in the Santa Clara County who served in World War II. Janie Tilbury was acknowledged.
Thanks, Janie, for all you have done to help make our community a better place to live!
Rita Jane Tilbury
July 1, 1922 – May 8, 2013
Rita Jane "Janie" Tilbury, a long-time resident of San Jose, passed away peacefully at home on May 8, 2013. Born July 1, 1922 in Columbus, Ohio, to Georgia and Harry Lofton, Janie was the middle of three daughters. She grew up in Columbus and graduated from Mifflin High School in 1940 with an award in journalism.
Janie was a proud WWII veteran, having served as Aviation Machinist and journalist in the US Navy. She settled in San Jose in the early 50's and had a long career in printing and bookbinding, working at Globe Printing for 35 years and 12 more at Hansel and Freeland. She was active in the numerous organizations, including doing volunteer work with the Veterans Administration, a member of the Bay Area Waves, and a 46 year member of Alcoholics Anonymous.
A consummate reader and supporter of the printed word, Janie was concerned about how many children locally, lacked even one book. And so, Janie and friends started "Books-4-Kids". Once a year they gave a book to every student at Lyndale Elementary School and selected other local schools. Over 13 years thousands of books were given away.
Janie loved nature and was an avid bird watcher. Her San Jose home was one of the earliest, #54, to be recognized as a "Backyard Wildlife Habitat" by the National Wildlife Federation.
Janie is survived by her husband of 46 years, Larry Tilbury, her sisters Marianne Burrow and Carol Ann Doyle and her nieces and nephew and their families. She also leaves her good friend and prayer partner, Marlene Burrow, as well as numerous friends and neighbors.
We will never know how many Janie helped during her life. She did so quietly, without expectation of reward or recognition. Janie was greatly loved by all who knew her. One of her favorite quotes was "The best is yet to be".
Click here to view all the nominated heroes and then join us on June 29th to celebrate "District 5 Heroes".
Click HERE to vote now to tell us who should receive Special Recognition on June 29, 2013!!